Papel picado (perforated paper) is a popular Mexican folk art crafted out of tissue paper. This delicate and colorful art decorates home and streets during the Day of the Dead celebration. While many of the designs can be very intricate, with skeletons, birds, angels, words, the sun, flowers and more, you can make simple ones at home with your children in much the same way you would make snowflakes. They are a lot more colorful and no cold weather is required!
Materials:

Tissue paper (orange, pink and purple are popular colors but you can use any colors you wish)
Scissors
String
Tape
Instructions:

1. Fold tissue paper (approximate size should be 8 x 10 inches) a number of times. It should be folded edge to edge, not corner to corner.
2. Cut small shapes from the paper, but unlike snowflakes, don't cut off any corners (it's important to keep the rectangular shape of the tissue paper).
3. Unfold. The edges may be straight, scalloped or fringed.
4. Fold the top 1/4 inch of the papel picado over a long piece of string and tape it around the string.
5. Add additional sheets to craft a long, decorative streamer that you can hang from anywhere in your home.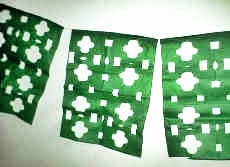 Thanks to DLTK for Kids for the directions and this picture.