I was in the children's section of a big, chain bookstore last week. I ambled around browsing picture book covers and flipping through the ones that were colorful or artistic. At first, I didn't notice anything strange—there were many books on vehicles and animals; there were the seasonal ones (spring and summer themed books) and the timeless classics like "Goodnight Moon" and "Where the Wild Things Are." There were also bestsellers and new releases, which were mostly sequels to hits like the "Ladybug Girl" and "Don't Let the Pigeon Drive the Bus" series. I love these books.
Then I turned around and saw a couple of Indian-Americans browsing books. A woman in a hijab, with a Starbucks in hand, watched her son play at the train table. I heard a distant chatter in, what I thought was, Mandarin. Yet none of the books on display mirrored this heterogeneity around me. I stood there and wished books for children were much more eclectic and flavorful. I wished more books had stories in which I saw someone like the woman at the train table. Most of all, I wished these books were mainstream—powerful, influential and easily accessible. Why? Given recent discussions around the New York Times article, "How to Read Racist Books to Kids," it became even more important to me to analyze what it is that we've come to accept as mainstream in children's literature today. What should our kids be reading instead? What are the big bookstores really missing?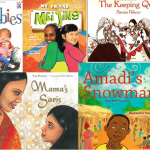 1. It is important that books reflect the diversity that exists in societies today. A book that includes people of different ethnicities presents a more realistic picture to a child. Even board boards can achieve this. "Babies" by Gyo Fujikawa is a great example. Published in the sixties, it was the first children's book to show infants of different races.
2. Understanding cultures enhances the understanding of experiences of those we interact with. This helps children develop empathy towards peers, nurturing meaningful relationships in classrooms and playgrounds. I love the book "My Friend Mei Jing" by Anna McQuinn, which celebrates a cross-cultural friendship between school-going girls, Mei Jing and Monifa.
3. A language (or linguistic diversity) is a tangible form of realizing cultural differences.  Picture book stories set in a cultural backdrop often scatter words in the affiliated language. This is both fun and fascinating for kids. Bilingual books are also a wonderful way to introduce and experience languages.
4. Books that take us back to our cultural roots are always valuable. These books open up discussions about family ancestry and heritage. They also help children identify family traditions and find answers to why they eat specific foods or dress a certain way. "The Keeping Quilt" by Patricia Polacco is a heartwarming story spanning several generations and traditions—it dates back to the author's great-grandmother's initial immigrant days (from Eastern Europe) in America.
5. Loaded with cultural nuances, multicultural literature often comes with geographical and historical details as well. Besides being informative, it also heightens a child's global awareness. I am reminded of Amadi, in the book "Amadi's Snowman" by Katia Novet-Saint-Lot. The Nigerian village boy is intrigued by the picture of a "strange-looking man" (a snowman!) he chances upon in a book. This actually makes him want (to learn) to read!
6. Mainstream books, sadly, have a tendency to stereotype. The media is notorious for its clichéd portrayals, like the skewed images of Africa or the Middle East. Children's literature in no exception. Multicultural books dispel misconceptions and break stereotypes associated with a specific culture.
7. It is natural for us to try to relate to a character or story as part of the reading experience or to assert our own identities. This becomes particularly important for children of immigrant, biracial and bicultural parents.  Multicultural choices include their unique experiences and address unique challenges they face. Pooja Makhijani's "Mama's Saris" has been a favorite at our home for several years now. My daughter and I easily identify with the context—a seven-year-old Indian-American girl delights in her mom's collection of colorful ethnic wear, a common scenario in our own house!
8. "Multicultural" often encompasses stories focusing on divergent themes that step outside the dominant social and cultural structure. These include issues like adoption, racism, divorce, war, sexual orientation and gender stereotyping, to name a few. The anti-bias approach of these books better represents the community we are part of, with its differences stretching even beyond cultures and skin colors.
9. Not all of us can travel wherever we like, whenever we want. But books can take us to faraway place while still in the comfort of our home. Publishers like Hartlyn Kids and Itchee Feet offer books that provide this enriching experience for children.
10. Ultimately, books that open up the world are essential for a child's well-balanced reading diet. When children grow up exposed to diverse cultures, people and places, they become much more open to exploring broader possibilities in careers, relationships and decision-making as parents or leaders.  Without ignorance and prejudices inhibiting them, they can be prepared for wherever life takes them and whatever life brings.
————————————————————————–
If you agree that multicultural children's literature is important, then help us tell Barnes & Noble to improve their selection: http://www.incultureparent.com/2012/07/do-you-want-to-see-more-multicultural-books-at-barnes-noble/