Comic books and graphic novels are a great way to read with kids. I know that some adults will dismiss them as just pictures, but they tell extremely rich stories that unfold through both visuals and words.
As a parent I was looking for a way to encourage my eight-year-old to read more outside of school assignments and homework. He was hesitant at first, not fully understanding the medium of a graphic novel. But, once we read a few together I found that he would start and finish them entirely by himself—on the way to school, on rainy days, when I said no more TV, and even in the bathroom. Sometimes, he read some in less than a day! Some of the comics and graphic novels I have collected here are books that he and I both have read, together and separately. If you are looking to get an elementary-aged child reading, graphic novels are becoming increasingly more available, diverse, and creative. Just ask author/ illustrators like Kazu Kibuishi of the Amulet series or the New York based publisher First Second who publishes "Zahra's Paradise," and Derek Kirk Kim's "Tune". They know what time it is. Enjoy the following blurbs.
Roberto Clemente "21" by Wilfred Santiago, published by Fantagraphic Books
21: The Story of Roberto Clemente
is an advanced reader. It took two tries to finish this one with my son but it is an incredible book. The illustrations are gorgeous, very unique, and mixed in medium. There is also a lot of research in this book starting from the time Roberto spent in Puerto Rico as a kid, to his family, and his experience as an Afro-Latino ball player in Major League Baseball. Fantagraphic has been around for over 30 years and has published great works by artists such as Joe Sacco and The Hernandez brothers.
Brotherman "The Dictator of Discipline" by Dawud Anyabwile and Guy A. Sims, published by Brotherman Comics
Brotherman Dictator of Discipline #5
is a book I recommend reading with your child, as it is a challenging read. The story is about a regular citizen named Anthony Valor who is a lawyer in the "Big City" where crime and complacency has taken over. Without guns or super powers, the hero takes down criminals with his intellect, his passion for justice and his strength. He works with the law by day and turns the city's criminals upside down by night. I first saw Brotherman in a hip hop magazine some 17 or 18 years ago. It was first published in the early 90s, sparking an explosion of Black Comics. The family re-released the book recently and is working on new comics as part of the Brotherman legacy.
Spirited Away by Hayao Miyazaki, published by Studio Ghibli Library
Spirited Away, Vol. 1
is a mild read. By now I'm sure most of you have seen the classic animated film "Spirited Away," but I bet many of you didn't know that the film has been collected in several small graphic novels. The story is a classic tale of a girl named Chihiro who goes through an adventurous transformation involving magic, courage, friends and a strong will. In the story Chihiro's family is put under a spell. In order to release her family she must work hard, struggle, trust, and leap into her abilities as a young girl and as a heroine.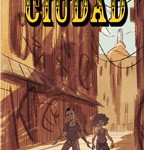 Ciudad by Octavio Rodriguez, published by The Cano Spot
A very easy read for most kids, I found this independent gem from meeting the creator at the Latino Comics Expo. The story is about two kids in the Dominican Republic who live by their own rules, hustling whatever they can to live. On a bad day, they are approached by a much older crime boss who offers them a job. They take it, but life under the boss is not all that it seems to be. The story's main protagonists talk of getting out of the game, but before they do they must make sacrifices and discover a hidden ability. With the second book already done, this story is starting to really take off.