Growing up in India, we played a lot of board games in our family. The tradition is now carried over and my kids are very excited on game nights. Lately, I've been curious about the origin and cultural orientation of board games. And how, with the fundamentals intact, the games have evolved over time and crossed borders and cultures. Here is a list of games and related facts that truly fascinate me.
Popular Board Games in the World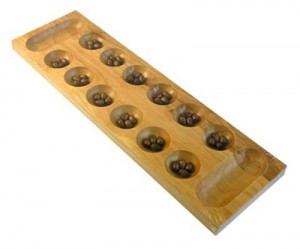 Mancala
I was pleasantly surprised to find Pallankuzhi (Tamil), more of a folk game in Southern India, here in the U.S., where it is called Mancala. However, Mancala in reality refers to a family or group of games.  And the word Mancala itself is a derivative of an Arabic word meaning "to move." These games are believed to have originated in Africa or in Arab cultures and are probably one of the oldest board games in the world.
I've always used tamarind (tree) seeds or cowry shells for coins, and the modern versions carry gemstones or marbles instead. I remember running to the kitchen as a kid, hoping to find a seed or two in the jar where my mother always kept the sticky tamarind. I would then use them to replace lost coins. The ones I played with had the "pits" or hollows made in unfinished wood.  However, nomadic Africans dug out the pits directly on the earth and used seeds, beans, or nuts. The game is also called "sowing the seeds" or "pit and pebbles." Even within Africa, depending on the region it is played, it takes several names like Wari, Bao, or Adi.
---
Go (Wei-qi)
Go is a game that originated in China thousands of years ago and later spread to Japan and Korea. It reached the West through Japan. The Japanese name Igo means "game of surrounding" and the same is Wei-qi in Chinese.  The meaning rightly fits the grid game in which the person that "covers" most of the board space wins.
There are many variations of the material of the board, from really expensive wood to particle boards to paper. Similarly, stones have replaced traditional Japanese clamshells and slate. Even coveted rosewood bowls for storing the stones have found other inexpensive alternatives today.
---
Chinese Checkers
The history of Chinese checkers is rather interesting. Counter-intuitively, it has nothing to do with China or the game of Checkers. In its most popular form, it is a six-pointed star. This is because of its German origin, from the game Stern-Halma (stern is a star in German).
But Stern-Halma itself comes from an American discovery of the late 1880s. A Harvard professor from Boston, with help from a Harvard mathematician, devised a board game called Halma, meaning "jump" in Greek. For this, he borrowed a few ideas from an ancient English game called Hoppity. Stern-Halma is the star equivalent of the square board used in Halma. Likely subjected to a trivial marketing name-gimmick, Chinese Checkers is just a variant of the American game Halma.
---
Ludo
The very widespread and yet very simple game of Ludo came from India. It is a less complicated version of Pachisi (twenty-five in Hindi). This game of dice appears in ancient cave paintings and also extensively in Indian mythology and history. A Mughal Emperor is rumored to have played a more "living" version of this game, with women for the game pieces. The game was taken back to Britain in the 19th century from colonial India. Today, it is played in many countries under different names, like Parcheesi and Sorry! in the U.S.  In its ancient form, the game included a "board" made of wool or cloth, and small metal or wood pieces with dots, instead of the cubical dice. So, when my seven-year-old was teaching me how to bonk a glassy globe to roll the dice inside, it took me a while to realize it was Pachisi she was teaching me!
Buy Ludo on Amazon  Download on PlayStore  Download on AppStore
---
Chess Board Game
Another game believed to have originated in the Indian subcontinent is Chess. Its modern form may have been derived from a very early game called Chaturanga. The game followed trade routes and later reached Europe and the rest of the world. But many theories surround the game's origin, and the game itself has undergone many transformations.
Most games are deeply rooted in ancient civilizations, some of them found in excavations of royal tombs. Yet, modern studies endorse and confirm the positive cognitive impact of playing these games even today. It's amazing that they also give us a sense of the history of a particular culture. They have withstood the test of time and an array of cultural influences, and are still popular, even as computer games and apps! I'm sure there are a lot more interesting games and facts, possibly from your own culture or country. Please share them in the comments below.