This post was written for the blogging carnival on Schools Around the World over at the great educational site The Educator's Spin on It.
Berkeley, California has a unique school system compared to most of the U.S. In the majority of the U.S., your address determines where your child goes to school. That means that people with higher incomes and pricier houses, with a higher property tax base, have access to the good public schools. The failing and underperforming public schools, of which there are far too many (one of the biggest failures of our rich nation in my mind) are located in the poor neighborhoods, where property values and thus the tax base is low. These neighborhoods end up being disproportionality black and Latino across much of the U.S., due to the links between poverty, education and race in the U.S. That contributes to why we have a public education system on the brink of failure in many cities, such as Philadelphia and Detroit for example.
Berkeley is a diverse city in regards to not just race and ethnicity but also class. It has both extreme wealth (I have met more people in Berkeley than anywhere else before that don't have to work because of their wealth) as well as high poverty. About 50% of the kids at my daughters' school receive free lunches. Berkeley uses address as only one of three factors in its public school assignment process. Race, parent education level and income (evidenced by address) all factor into school assignments. This ensures each class is balanced by not just race but also class and finally education level. Parents put their top three school choices (out of four possible schools in your zone) but the lottery system, based on these factors, determines your ultimate assignment.
Here's a snapshot of the demographics at my kids' school (kudos to Berkeley for including two or more races—we know everywhere should but we also know not everyone does.):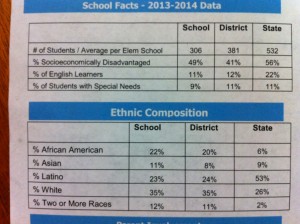 Because of this, all 11 of Berkeley's public elementary schools are good. There are no thriving schools in the wealthy Berkelely neighborhoods and underperforming schools in the poorer ones. Not all Berkeley residents are happy with this system as it means you may not get the public school you live across the street from, which I'm sure, can be annoying. But these instances are minor when it comes to the greater social good of Berkeley public schools. Additionally, class sizes are kept relatively small for public. Last year my daughter's kindergarten class had 19 students. Other California schools, located in highly sought-after districts with higher API scores (the Californian scoring system for schools), can exceed a class size of 30 students (for just one teacher!).
The commitment to diversity is seen not just in the make-up of the student body, but stretches down into the curriculum. Perhaps it's no surprise given Berkeley's history and activism during the Civil Rights movement and Berkeley's legacy of being the nation's first school district to voluntarily desegregate its schools in 1968. The first two historic figures my kindergartner learned about last year were Martin Luther King and Cesar Chavez. I don't remember learning about Cesar Chavez until college! All the kids also learned this song about Martin Luther King last year.
A few other cool things about Berkeley public schools. All kids get free breakfast when they arrive. When you have a high proportion of kids receiving free lunches, it means not everyone may have come to school having eaten. I know even though my kids aren't on free lunches, breakfast is always a rushed affair in the morning so it's nice to know all kids get fed upon arrival to make sure they are ready to learn. All kids also take not just art but also cooking and gardening. My daughter adored this and came home last year making spring rolls, salsa and smoothies for us. It inspired her. And finally all kids start an instrument in 2nd grade.
If you are curious to know the downside, here are two that come to mind. We definitely pay for the schools via property taxes—Berkeley's property taxes are well above the norm nationwide, but still obviously less than you would pay for private. And the schools are not the absolute top rated, but I have learned API scores are not all that matter. Berkeley doesn't have 9s and 10s like many counterparts around the Bay Area, and my kids' school is considered to be a "Program Improvement School" under the No Child Left Behind Act of 2001. However the high quality of the teachers and extremely committed and involved parents, who also fundraise throughout the year for the school, make a big difference. The school feels like a solid community and my kids are learning in the best sort of classroom, with an amazing teacher and one where many backgrounds are represented. This past week was back to school night, and I smiled as I caught a glimpse of some of the faces that make up my youngest daughter's class.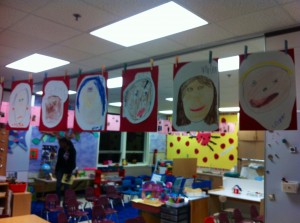 Go check out the Educator's Spin on it to read posts about schooling around the world.