CELEBRATING MULTICULTURAL CHILDREN'S BOOK DAY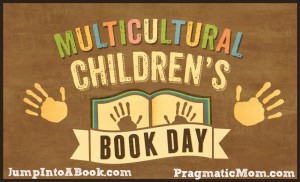 The mission of this important campaign is to spread the word and raise awareness about the importance of diversity in children's literature. Our young readers need to see themselves within the pages of a book and experience other cultures, languages, traditions, and religions within the pages of a book. The mission is not only to raise awareness for the kid's books that celebrate diversity but to get more of these of books into classrooms and libraries.
The backbone of this celebration is a beautiful collaboration–the co-creators are Mia Wenjen from Pragmatic Mom and Valarie Budayr from Jump Into a Book/Audrey Press.
As an advocate of diverse children's literature in raising children to be global citizens, InCultureParent celebrates MULTICULTURAL CHILDREN'S BOOK DAY 2016 with a beautiful pick, "I love snow," written by Zetta Elliot and illustrated by Purple Wong.
Title: I Love Snow
Author: Zetta Elliot
Illustrator: Purple Wong
Ages: 0-5 years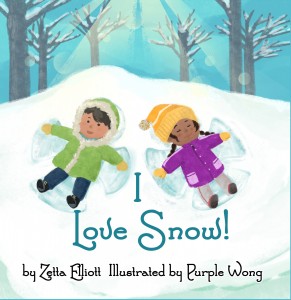 This is a fantastic book for young children on the joys of snow. This book does not celebrate culture, tradition, race, or gender. This book opens the door to every person no matter their background.
And yet it qualifies for a "multicultural" book because it alerts us to the void that it is trying to address – that mainstream books refuse to reflect the diversity children see around them. And that this is the highlight of the book is so incredibly wonderful! Author Zetta Elliot's effort to push books like these into today's literature pool for children definitely deserves applause.
In a rhythmic, read-aloud friendly narration, the book describes all the ways kids enjoy snow – crunch beneath my boots snow, miss a day of school snow. It goes further and shows kids taking in even the slushy, gray, cold, and wet snow with no big fuss. In the end, they can't wait for it to snow again!
We see colorful spreads of children enjoying the snow, in not just a colorful setting and in multicolored clothes, but also in diverse skin colors, in a hijab and in a wheelchair. And this is why I love this book – the simplicity and the honesty with which it presents the pleasures of a child's everyday experience. I recommend this book for small children everywhere – at home, in libraries, and in classrooms, so they see themselves and their friends included in the stories they read.
The sponsors for Multicultural Children's Book Day are:
Multicultural Children's Book day 2016 Medallion Level Sponsors! #ReadYourWorld
Multicultural Children's Book Day has 12 amazing Co-Hosts:
All Done Monkey, Crafty Moms Share, Educators Spin on it, Growing Book by Book, Imagination Soup, I'm Not the Nanny, InCultural Parent, Kid World Citizen,Mama Smiles, Multicultural Kid Blogs, Spanish Playground