May is Asian-Pacific American heritage month. It is the perfect time to showcase some of the truly amazing authors in Asian-American children's literature, who have consistently produced works that bridge cultures.
The reading list includes authors and books that highlight Asian heritage through great stories.  This kind of literary exposure can be very enriching as it helps children develop a deeper understanding of cultures and hence an appreciation for the diverse communities in which we live.
Roseanne Thong  
Roseanne Thong has family members in Malaysia, Hong Kong and the U.S.  I recently re-read and enjoyed Round is a Mooncake: A Book of Shapes
and One Is a Drummer: A Book of Numbers
with my second born, a preschooler.  In both these books, Thong introduces a multitude of things that are essentially Chinese in origin, like names of foods, games, animals and objects significant to Chinese customs and traditions. There is also a glossary at the end.  The rhyming text makes these books great for read-aloud. Ultimately, Thong brings concept and culture together for younger readers in a wonderful collection of books that also includes Red Is a Dragon: A Book of Colors
.

Minfong Ho
Minfong was born in Burma to Chinese parents, and lived in Thailand and Taiwan before coming to the U.S. Her stories are predominantly set in Southeast Asia.
We were introduced to Minfong Ho in Hush! A Thai Lullaby
in which the author takes us to a remote village in Thailand. Traditional basketry, fabrics and architecture further introduce us to a Thai household where a mother is shushing a mosquito (and later, other animals too), as she prepares to put her child down for a nap. A set of rare animal sounds adds to the fun of trying to find a toddler hiding in thick foliage.  We loved this book so much that we hunted down and read Ho's Peek!: A Thai Hide-and-Seek
—equally delightful and refreshing.

Uma Krishnaswami
"Some of my stories are set in the United States, some in India. Some cross from one place into the other and back again, just like me," says Uma Krishnaswami (on her website). That about sums it up, doesn't it?
We recently read Monsoon
again, and we were instantly transported to a hot, dry, and dusty summer afternoon in a bustling city street in India. As a family longs for pregnant clouds to burst and drench, we are drawn into the mood of a city, in impatient anticipation of the monsoon. The author beautifully captures this in the backdrop of authentic events and details, making it a great book to introduce India or its culture to children everywhere. Born in New Delhi, Uma Krishnaswami's books present glimpses of the subcontinent. And her lifelong passion for writing and reading is very transparent in her work.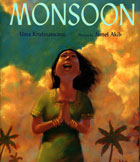 Allen Say
Born in Japan and self-apprenticed to a Japanese cartoonist, Allen Say is a master of storytelling. His works bind the people and beauty of two continents with warmth, surprise and charm. His autobiographical picture book Grandfather's Journey
is well-known, as the author-illustrator won the Caldecott for it. "The funny thing is, the moment I am in one country, I am homesick for the other," Say concludes after shuttling between Japan and the U.S in the story.
Say's Kamishibai Man
is about a storyteller in Japan, his traditional form of paper theatre and the special bond Kamishibai Man shares with his audience. Another of Say's books Erika-San
takes us to the countryside in Japan, as a young American girl searches for the place to call home, just like in the painting that hung on her grandmother's wall. Allen Say's art is realistic and breathtaking in all his books. There is also a certain placidity that nudges a child to effortlessly connect to the story, the characters and the place. I've seen this happen in my eight year old several times. It is also astonishing how each of his books has the ability to keep the adult mind completely interested as well.

Grace Lin
Grace Lin has numerous awards and books to her credit. We love her picture book, Dim Sum for Everyone!
. Her middle-grade novels, The Year of the Rat (A Pacy Lin Novel)
and The Year of the Dog (A Pacy Lin Novel)
are full of anecdotes based on Lin's life, and they aptly weave into stories involving the character Pacy, a Taiwanese-American girl. Traditional foods and festivals around universal themes of friendship, family and school make them very relatable and flavorful for upper-elementary and middle-grade kids. Lin's Where the Mountain Meets the Moon
a fantasy novel drawn from rich Chinese folklore, won her a Newbery Honor.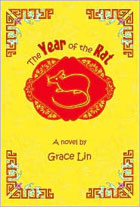 More picture books we LOVE:
For preschoolers
D Is for Dragon Dance
by Ying Chang Compestine, illustrated by YongSheng Xuan – An alphabet book with everything about the Chinese New Year, from Acrobats to Zodiac. Fun and informative!
On My Way to Buy Eggs
by Chih. Y. Chen – Through a simple story of Shau-Yu's enjoyable walk to the local corner store, the award-winning book celebrates traditional neighborhood stores in Taiwanese cities.
For ages 4 and up
The Dancing Pig
by Judy Sierra, illustrated by Jesse Sweetwater – A Balinese folktale in which an animal band (including a pig in a sarong!), rescues a family's twin girls from the ogress, Rangsasa.
The Name Jar
by Yangsook Choi – A little Korean girl's struggle to fit in; Unhei wonders if she needs a new name in a new country and classroom.
For ages 8 and up
Baseball Saved Us
by Ken Mochizuki, illustrated by Dom Lee – The story of how a Japanese-American boy regains confidence, dignity and acceptance at the ball park, after his experiences at a Japanese internment camp during World War II.
With so many to choose from, pick an author or grab a title, and celebrate Asian-American heritage!