Every summer my kids and I spend at least six weeks in Chennai, a metropolis in Southern India where I was born and raised.  Even though the chaos and noise of a hot, crowded city has grown on them over the years, there are certain things that continue to fascinate them. For instance, I've noticed how they stand on the verandah and catch the action on the street with undivided attention every morning. Particularly, when kids dash past with backpacks and lunch totes while schools back home are closed for summer. But what amuses them most is seeing how children actually get to school. While some walk chattily with friends, some others are huddled inside an auto-rickshaw (like in the picture below, which we clicked last summer).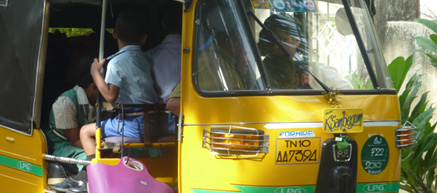 Sometimes a maid walks a bunch, and sometimes kids whisk by on scooters and motorcycles. I can definitely relate to their wonder.
Raising my own children after migrating to the U.S as an adult and navigating the school system here for the first time, I have a learning curve myself. After three years, I'm still tickled by Pajama Day at my kids' school!
With back to school season upon us in the U.S. and other places around the globe, here is a list of stories about the challenges kids typically face while starting off in a new school. It also includes a great book about first day experiences from around the world. And of course, every book we review has a multicultural angle. So, even if you are in the thick of a school term in your corner of the world, I assure you, these still make fantastic reads!

[amazon_textlink asin='0440417996′ text='The Name Jar' template='ProductLink' store='US' marketplace='US' link_id='5593ac24-ac81-11e8-9de3-81de9adf4a7f'] By Yangsook Choi
Ages: 4-8
What's in a name? A whole lot, especially if you are a little girl in a new school from a different country. Memories of her grandmother whom she left behind in Korea not too long ago, and the "Unhei" name stamp (in Korean) she gave her keep haunting her, as Unhei tries to find herself in America. Sometimes, Unhei wishes she was an Amanda or a Laura. Feeling awkward about sharing her Korean name in the classroom, Unhei decides to go nameless for a week, until she can pick out a better one.  But her mom keeps reminding her, "You are different, Unhei. That's a good thing!"
Unhei gets the love and support of her classmates who fill a jar with creative name suggestions for her.  Meanwhile, her classmate Joey, who is trying to get to know her better, worries and wonders what Unhei will choose.  But on the day Unhei has to decide, the name jar disappears. So what name does Unhei finally decide to go with? Find out for yourself in this wonderful book by award winning author-illustrator Yangsook Choi who, like Unhei, moved to New York City from Korea, and later studied art.

[amazon_textlink asin='1620141906′ text='First Day in Grapes' template='ProductLink' store='US' marketplace='US' link_id='5fa5f383-ac81-11e8-9406-154fb0e18d3b'] By L. King Pérez; Illustrated By Robert Casilla
Ages: 5-8
The first day in a new school is hard enough. Imagine if there had to be several such first days. But that was the norm for our hero, Chico, who belongs to a migrant family that picks fruits and vegetables all over California for a living. After artichokes, oranges, apples, peppers and tomatoes, it's back to a migrant camp picking grapes in September!
Chico is filled with habitual reluctance on the morning of his first day for fear of being picked on and called names.  To make matters worse, even the bus driver seems hostile. But there is a silver lining— Ms. Andrews. She is instantly impressed by Chico's math skills (thanks to adding up crates of fruits and veggies at home!), and Chico begins to have a good feeling about his first day. When the bullies arrive during lunch time, Chico's arithmetical genius once again saves him!
Sprinkled with common Spanish words, the story is engaging and well narrated. The book won the Pura Belpre's Honor award (presented annually to a Latino/Latina writer and illustrator whose work best portrays, affirms, and celebrates the Latino cultural experience in an outstanding work of literature for children and youth) for illustrations in 2004.

[amazon_textlink asin='B00BSZUFO2′ text='Nasreen's Secret School – A True Story From Afghanistan' template='ProductLink' store='US' marketplace='US' link_id='6b08135e-ac81-11e8-8add-218509d287fe'] By Jeanette Winter
Ages:  Up to the parent
This is the story of little Nasreen who lived in Herat, an old city in Afghanistan, and is narrated in her grandmother's voice.  The soldiers had completely changed both Herat and Nasreen's life. They took away her parents and an education, because girls like her were not allowed to go to school.  A traumatized Nasreen stayed home and cringed in pain and loneliness.  Desperate, Nasreen's grandmother sneaked her into an all-girls secret classroom. Still, Nasreen did not break her silence. Winter passed and one day, when the school re-opened, Nasreen finally spoke. But what made her open up? What did Nasreen discover at school? How did the school continue to teach girls secretly in spite of soldiers banging on the doors for random checks?
I skipped the author's note with my kids—it had details of the Taliban atrocities in the past decades. But I did not have to hold back anything else in the narration.  It was easy and appropriate, just like the art. However, it still seemed tricky to come up with an age recommendation. My four-year-old son liked it and wanted me to read it again. I wondered and asked him a few questions to see if he had grasped anything.  And I remember him saying, "There are guards and bad people outside, so Nasreen is going to a secret school because she has to learn stuff every day."  Something about true stories usually touches my daughter, so she paused on certain pages longer than usual. We also talked about wars, friendships and Islam.
The ending is optimistic and I think it helps kids digest a story like this, while still giving them a peek into the harsh realities in distance places. More than anything, we get a sense of how special, education is— both important and a privilege. The story teaches and inspires in many ways. Would it not, when the dedication reads, "To the courageous women and girls of Afghanistan?"

[amazon_textlink asin='0761319484′ text='It's Back To School We Go! First Day Stories From Around The World' template='ProductLink' store='US' marketplace='US' link_id='74ca8cb2-ac81-11e8-8fd2-e3f95af83d47′] By Ellen Jackson; Illustrated by Jan Davey Ellis
Ages: 4+
I've saved the best for last! Imagine a double-page spread, one for each country. On the left is an autobiographical account of a first-day in school with a title that has a child's name, age, and the country he or she lives in. On the right you'll read a more generalized version of going to school in that country.  Apt illustrations loaded with details surround the text on both pages.
An informative and entertaining anthology of children going to school in different parts of the world, this book was a big hit with my kids! There were many wows and oohs and little fingers frequently pointed to the illustrations as we read. What makes it a worthy read is the diversity of experiences—particulars of seasons, school timings, playground games, classroom resources, eating habits and many more.  The personal approach in the child's voice along with the contrast and similarities in the littlest of details keeps the book lively and hard to put down. I'm sure every kid would love to meet Achieng from Kenya or Casey from California, Nadia from Russia or Rajani in India, and also read about how Misaki spent his first day in Japan or how Thomas did in Peru. Or about Kendi in Nunavut, Canada or Anton in Kazakhstan for that matter!
More multicultural, school-related books to read: