I admire traditional attire from many ethnic backgrounds. The Indian sari, the Sudanese tobe and the Arabic abaya are some of them. Occasionally I wear the abaya, during Ramadan for family gatherings as well as the complicated tobe, since I am married into the culture. It's feminine and girlish fun, reminding me of dress-up games as a young girl.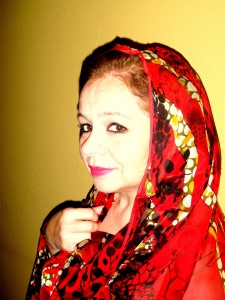 Walking down any mall in Dubai, you cannot fail but notice the exquisitely dressed and groomed ladies wearing this traditional garment. It intrigues visitors and tourists as well as residents of the city. I love observing the individual designs that are as much a reflections of the ladies character as the way she wears her shayla.
Photo courtesy: sharepoint
Some opt for more modest, simple styles. Simple cuts, nothing flashy or eye catching and a black, gracefully wrapped veil.
Simple abaya
Photo courtesy : she9
Others, on the other hand, express their individuality through this garment that has made strides in the last few years, with new abaya designers popping up all over the city. Fashion shows geared exclusively to the abaya market have become extremely popular. I have been invited to a few. Unfortunately, I was unable to attend but plan to remedy that oversight this next fashion season.
Photo courtesy: abayacollection.com
The abaya continues to fascinate me—the sway and rustle of the soft garment as the girls move gracefully on sky high Jimmy Choos like proud swans, heads held high, the exquisitely embroidered shayla adorning a perfectly upswept hairdo. Their arms swing in rhythm of the dangling adornments, the pompoms and tassels. Their kohl lined eyes look confidently ahead.
Now, as in all fashion, there is a hierarchy in the booming abaya and shayla market. From tens of thousands of dirhams on a unique designer piece to a couple of thousand for mid-range, and then a few hundred for the lesser known designers or lower quality material.
Silk is one favorite. It feels smooth and cool on the skin, especially in the heat of the summer. Linen and cotton as well as crepe, sometimes with added spandex for comfort, are also popular materials.
Traditionally embroidery is sewn around the neckline or the opening of the garment. Gold or silver thread is used to intertwine and create them…each more beautiful than the other.
Photo courtesy: americanmuslimfashion
Crystals are added to the patterns as well as to the shaylas.
Clusters and corsages of little and big flowers adorn the front and sleeves.
Photo courtesy: glitterandbukhoor
Leather is featured as well as pearls, buttons, beads, pompoms and feathers.
Glass beading and sequins in a diversity of vivid colors.
Photo courtesy: americanmuslimfashion
Photo courtesy: tiger abaya
It seems the abaya designs are becoming bolder and more inventive each season. It is as if each girl or woman wants to declare her individuality by inventing even more daring, quirkier designs. Most Arab women have new ones made for Eid celebrations or for weddings depending on their financial ability. Like women everywhere, no matter what dress code they choose, a little healthy competitiveness ensues.
Admiration, but also a dash of envy, fuels a healthy dose of creativity and resourcefulness.