This contest is now closed.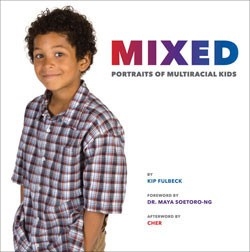 Mixed Portraits of Multiracial Kids, published by Chronicle Books, is the dream child of Kip Fulbeck, a multiracial professor, artist, filmmaker and writer who created the fantastic Hapa Project.
I came across this book online and loved the idea. So I knew InCultureParent readers would love it too. When I received the book, it delivered even more than my first glance online. In addition to awesome portraits of kids, together with their names and heritage, there is also a blurb from either the child or their parents about their identity. Here's one I liked from Morgan's mom: "Whenever someone asks, 'What are they?' about my kids, I always reply, 'The United Nations.' My little Mexi-Peruvi-Scott-Swiss-Vietnamese kids attract a lot of attention….My kids know both the joy of busting up a piñata at birthdays as well as opening a red envelope on Tet." It's a great book for all kids that shows the beauty of mixed families and it may be particularly special for multiracial kids who don't see themselves represented frequently in books. I was fascinated to flip through, together with my kids, and look at all the different mixed heritages.
So let's get down to it. Here's what you need to do to win:
Sign up for our email list: http://www.incultureparent.com/sign-up . We don't spam you, sell or giveaway your email, we just would like to have you as part of our growing community! Once you have signed up, please leave us a comment below letting us know what first name you signed up with (we do check!). That's it!
Want more chances to win? Then get social.
**Please leave a separate comment as we will pick the winner by random number generator based on the number of comments.
1. Follow us on Twitter and tweet about this giveaway including a link to the post and @incultureparent. Copy the link to the tweet in an additional comment on the giveaway's post.
2. Repost any one of our InCultureParent articles on your Facebook page (your pick) and leave us a comment telling us which article you reposted. (Please note, it must be one of our site's articles you repost, not just any article we have linked to on our Facebook page.)
This contest will close Tuesday February 14 at 10 p.m. PST and is open to everyone around the world. We will ship globally. Good luck!