This contest is now closed. Congratulations to Annice Johnson for winning the calendar and Laura Barta for winning the map!
There are so many good things happening that we have not one but two giveaways. We're celebrating reaching 1000 Facebook friends, plus it's the holidays for many people so it's good timing. It's a feel good season all around.
We're giving away a very cool 11×14 inch world map by Art and Philanthropy.
This map is nature themed, gender neutral and originally created from scrap papers. Made with 100% New Leaf recycled card stock and soy ink, eco-friendly packaging complements the eco-friendly imagery.
And we're also giving away a cool, multicultural calendar by gnaana, originally designed for the Brooklyn Museum by acclaimed animator Nina Paley.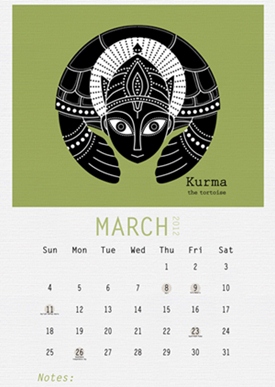 Here's their description: Reminiscent of traditional Javanese shadow puppets, we set the original black-and-white images on a digitally-created raw silk textured background–a regal setting for Lord Vishnu and his 10 Avatars. And for the first time ever, our calendar bridges the true multi-culturalism of the South Asian diaspora by highlighting US, Canadian AND South Asian holidays–Hindu, Muslim, Jain, Buddhist, Christian and Jewish, as well as Indian, Pakistani, Bangladeshi and Sri Lankan National Holidays!
You can see more pictures of the calendar here:
To win either of these giveaways, you must be a facebook friend already. If you're not, quick, go here and like us: http://www.facebook.com/incultureparent.
All you need to do to win is tell us in the comments section below when you discovered our magazine (approximately) InCultureParent.com, and how if you can remember. Also tell us if you have a preference for which giveaway you want to win or if you want to enter in both. That's it! We will pick a winner at random on Monday, December 26 EXTENDED to Wednesday December 28, 2011 by 11 pm PT. Both giveaways are open to anyone around the world as they will ship internationally.
Want more chances to win? Then get social.
**Please leave a separate comment as we will pick the winner by random number generator based on the number of comments.
1. Subscribe to our mailing list: http://incultureparent.com/sign-up (and we promise, we don't send too many emails) and leave us an extra comment letting us know you did so or that you're already a subscriber. Make sure to leave the comment using the same email you subscribed with.
2. Follow us on Twitter and tweet about this giveaway including a link to the post and @incultureparent. Copy the link to the tweet in an additional comment on the giveaway's post.
3. Repost any one of our InCultureParent articles on your Facebook page (your pick) and leave us a comment telling us which article you reposted. (Please note, it must be one of our site's articles you repost, not just any article we have linked to on our Facebook page.)