Originally a pagan holiday, Imbolc evolved from a celebration of the goddess Brigid (later Christianized as St. Brigid) in the Middle ages. Brigid is the Gaelic goddess of poetry, healing and smithcraft. Today it is celebrated across Ireland and Scotland and in some pagan communities globally.
One common craft for St. Brigid's Day/Imbolc is to make St. Brigid's crosses. But these are not your everyday crosses! These ornaments are often created with straw, corn husk or other organic materials. I used wired chenille (pipe cleaner) because it is more uniform, and it's what I had at home. (I think the iridescent chenille looks snowy, and the green ribbons are the herald of spring, but I am sure all color combinations are acceptable.)
This is one of those crafts where, once you "get it", you can't un-get it, and it looks harder than it is. You will be performing two movements over and over: turning the piece ninety degrees, and sliding a folded-in-half pipe cleaner onto the work to make the square in the center "grow".
Materials:
Wired chenille (pipe cleaners) in any color; or pieces of natural straw (about twelve inches long each). Use at least sixteen of whatever you choose.
Ribbon or yarn for tying the ends of the cross
Instructions:
1.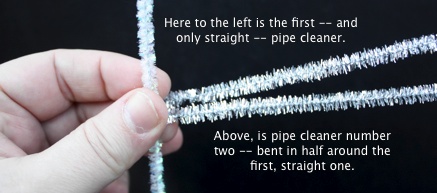 Begin with one straight, unfolded pipe cleaner. Take a second pipe cleaner and bend it in half. Slide this onto the straight pipe cleaner, at right about that straight pipe cleaner's center, and so that the open ends of the folded one face the right.
2. Now turn the piece ninety degrees, so that the folded pipe cleaner's two ends face upward. You will still have to pinch it at the center to keep it aligned with the straight pipe cleaner.
3.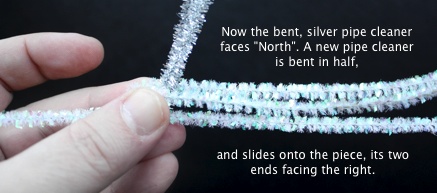 Take another folded pipe cleaner, and fit it over the section that is facing skyward. This new folded pipe cleaner, like the first one, will have its open ends facing your right.
4.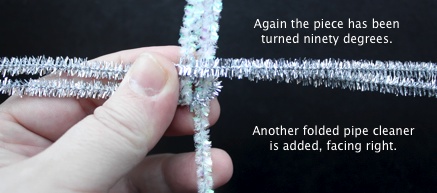 This is all you will be doing; taking a folded pipe cleaner, sliding it horizontally onto the most northerly, "vertical" part of the work, and then turning it ninety degrees so that it–the piece you just added–is the new "vertical".
5.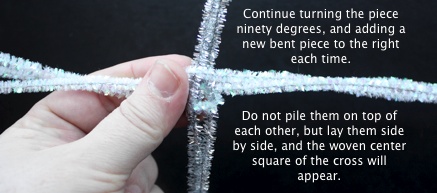 Add pieces so that the bend in the pipe cleaner is snug to the center of the work, but do not smoosh it down so it is overlapping any of the previous work. Lay it "next to" the last piece added, and the tightly woven square in the center of the cross will soon begin to appear.
6. Use no fewer than sixteen pipe cleaners to get a nice cross. Twist the four long "tails" together–trim them to a desired length–and fasten them with ribbons.
Suggested Links:
http://paganwiccan.about.com/od/imbolccrafts/Imbolc_Crafts.htm
http://fisheaters.com/stbrigidscross.html
http://www.pookapages.com/wcImbolc.htm
http://paganwiccan.about.com/od/imbolccrafts/ss/Brighid_Dolly.htm