Hamantaschen (also sometimes written Hamantashan) are the quintessential Purim treat. While the origin of the cookie and its name are in debate, the most taught explanation is that both are derived from the hat that Haman, the antagonist of the holiday's story who sought to destroy all the Jews, wore. Purim celebrates the salvation of the Jewish people from Haman's evil plot. The two most common fillings for these triangular pockets are prune and poppy, however, apricot jam, which I used, runs a close third. More modern fillings, such as Nutella, are becoming commonplace, as the cookies gain ground in culinary circles.
Ingredients:
(Makes about 20 cookies)
2 cups flour
2 teaspoons baking powder
1/3 cup sugar
pinch salt
1/2 cup butter, room temperature
2 eggs
1/2 teaspoon vanilla
zest of 1/2 an orange or lemon
Filling of your choice (I used apricot jam and Nutella)
Instructions:
1. Sift together first 4 ingredients.
2. Beat butter and sugar in an electric mixer. Add eggs, vanilla and zest. Add dry ingredients. Mix on low, or by hand, until dough comes together.
3. Roll out dough and cut with a round cookie cutter (I used a 3″) or a glass.
4. Put a dap of filling in the middle. Fold down one side, then two others, to make cookie into a triangular shape. (See below for a photo of two of the three sides folded.) Push down the three corners.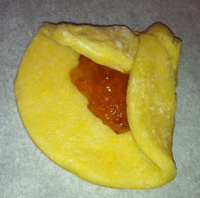 5.Bake on parchment paper at 400 degrees for 12-14 minutes.