This year is the first I have gotten serious about Ramadan decorations. Now that my girls are three and five, they have a much greater understanding of holidays. My five-year-old gets excited by crafts and decorating and was eagerly looking forward to our Ramadan preparations.
My plan this year is to fill every window with stars and moons and decorate our doorways too. This adorable craft, thanks to Ramadan Joy (thanks Khadija!), has really made us all smile when we look at our doorways and the windows they decorate. It's pretty exciting to watch my house be transformed for Ramadan for the first time!
Materials
Felt—any color
Thin string
Scissors
Needle or small hole punch
Glue
Instructions
1. First you will need to cut a template for your star and moon. We were very lucky in that we bought all of our star and moons pre-cut from the amazing woman behind Ramadan Joy, previously Barakah Life. She makes some of the best Ramadan and Eid decorations I have ever seen.
2. To cut the template, get a piece of cardboard to serve as your master copy and draw a crescent moon and a star. A five-pointed star might be simplest. Once you cut it out, use these cut-outs to trace on your felt. You can do any color star and moon—there are no "standard" Ramadan colors, so get creative!
3. Once you have traced and cut your stars and moons, glue your stars over your moons. My girls helped me with this step and did a great job.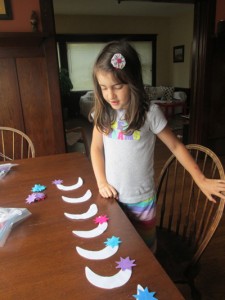 4. Now you are ready to string them together. I threaded a large needle with a thin piece of silver string. As I am not a sewer, it took me a bit to figure out the best way to string the moons. So here is what I did and apologies if this is obvious to anyone who sews and crafts with ease (that's not me!): I lined up all the moons across the table, with the exact length between them I wanted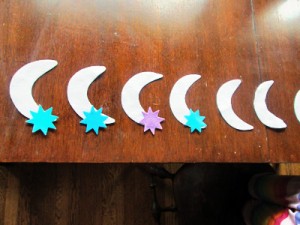 I pushed the needle through the first moon and pulled the string the length of the whole garland with a generous amount of extra room. I tied a knot and moved the knot after the first moon I just threaded. Next I tied another knot and moved it the exact distance I wanted between the first and second moon.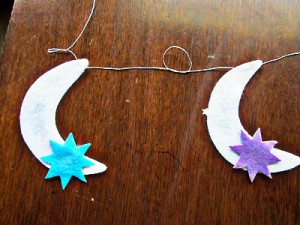 I pushed my needle through the second moon. I repeated the knot right on the other side of the moon. This prevents your moons from sliding around the garland once you hang it up.
5. Repeat this process until you get to the end. Note: if you use a hole punch, you will have to knot your moon once around the hole instead. They are ready to hang!
We made a couple of these in different color variations, chosen by my kids.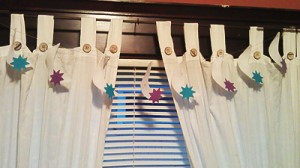 As I went to upload the pictures for this post off my camera, I noticed a little somebody had hijacked my camera and taken a whole bunch of pic of this: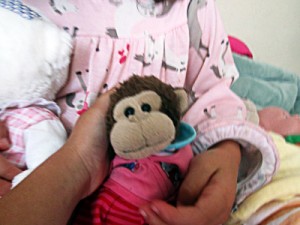 There were many pictures where monkey figured prominently as well as the girls' babies, together with a pair of rain boots, our mint plant, Jasmin's stomach, her feet on the wood floor, her feet on the tile floor, her feet on the bricks outside and a reminder that I hadn't cleaned the grill since we cooked on it some weeks ago (you don't want to see that pic).
Next up, star and moon sun-catchers! Stay tuned and Ramadan Mubarak!
Here's a link to more Ramadan crafts:
5 Perfect Crafts for Ramadan
Looking for some Ramadan recipes? Check out these:
Pakistani chicken kebabs
Moroccan harira