One element of the celebration of Vaisakhi is a parade. A fun thing for kids to do is make their own Nishan Sahib, the Sikh holy flag, to carry in the parade. The Nishan Sahib has an Adi Shakti on it, which is the symbol of the Sikhs.
Materials:
A rectangle of white construction paper
Orange paper
A print out of an Adi Shakti (included below)
A stick or rod about 1 1/2 feet long
Scissors, glue and strong tape
Instructions:
Cut the white poster board into a rectangle, about the size of a piece of printer paper, to use as the base of your flag. Using your orange paper, cut a triangle half the size of your flag and glue it to the poster board. Next, print out the Adi Shakti on this page below and cut it out. Glue it inside the orange triangle. For the final step, tape your stick or rod to the back of your flag and use it to hold your flag.
Adi Shakti for Print:
Print this page and cut out the image below.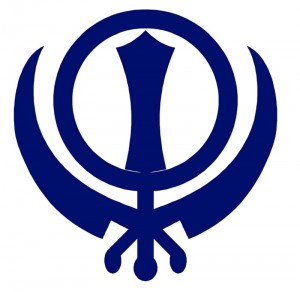 Thanks to Alessandra Dobrin Khalsa for this great idea!