July will be the start of Ramadan, the month of fasting for the Muslim world. Decorating for Ramadan is an exercise of imagination as you can't just pop over to your local craft store and pick up Ramadan-themed supplies. There are no set Ramadan colors in the way that red plus green equals Christmas, leaving color schemes wide open to creativity. I always prefer to make crafts out of recycled materials when possible so I first took stock of what was around the house as I brainstormed craft ideas for Ramadan.
I have a ton of my kid's art collecting in the cabinet. I have tried various organizational systems where the idea sounds awesome, but I just couldn't stick to it, like photographing my kids' art and uploading it into photo books. Although I have thrown out a huge amount of their art (shhhh) and some of my favorite pieces are framed around the house, like these:
the fact remains that I still don't really know what to do with many of my favorites that aren't quite frameable but not disposable either. So they stack up in the cabinet:
Now that I've shown you one of the many embarrassing cabinets in my home, let's move on, shall we?
I thought a neat craft would to use some of the kids' art work to make a star and moon decoration. It's made of about 90% recycled material—the only thing not recycled is the string! So here's what I used.
Materials
Old cereal box
Kids' art work
String
Cookie cutters for star and moon (but you can also make your own stencil as well)
Glue
A stick we found outdoors on a walk (I knew if I kept it around I'd find a use for it!)
Instructions
1. Trace the stars and moons onto a flattened cereal box. The kids may need some help holding the stencil in place.
2. Select the art work you want to use. I loved this one because of the bold colors.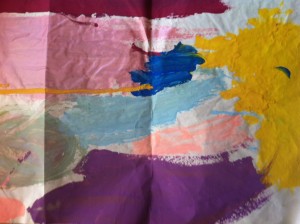 3. Fold it in half (less cutting!), taping it to the other side of the cardboard stars and moons. You don't have to do it this way but it will make for less cutting in the end.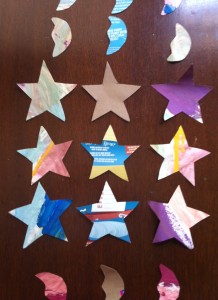 The middle ones are the cereal box cardboard and the ones on either side are the painting.
4. Glue the stars and moons to each side of the cardboard. Once dry, poke a hole in the top for the string.
5. String the stars and moons over the stick, tying with a double knot to make sure they hold firm. I went with two different shades of blue string.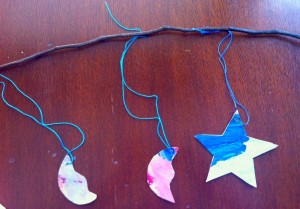 6. As a final step, tie a string firmly on each end so you can hang it.
I decided to hang ours by the back door as that's the one most frequently used. It's a bright and cheery reminder of Ramadan as we go in and out of the home each day!
Ramadan Mubarak to all!
***

Visit Hobo Mama and Code Name: Mama to find out how you can participate in the next Carnival of Natural Parenting!
Please take time to read the submissions by the other carnival participants:
(This list will be updated by afternoon July 9 with all the carnival links.)