St. David is the patron saint of Wales and his feast day falls on March 1 . This day is called Dydd Gŵyl Dewi in Welsh, and on it–as on a number of other days in the Welsh calendar–children take part in Eisteddfodau, festival days of music and performance, as well as what may well be a precursor to the poetry slam.
A traditional emblem of St. David's Day is the leek. In the past, the Welsh wore actual leeks pinned to their clothes on St. David's day, but you can make a leek or two with your kids out of unspun wool roving (easier than ever to find in craft stores these days since felting has become so popular.)
Materials:
Wool roving in a light natural or white color
Dish soap
A leftover tablet of Easter egg dye (green) (regular food coloring or even liquid fabric paint is also fine)
Instructions:
1. Working with wet wool roving is surprisingly similar to working with clay. You may want to get it started for your kids as the magic elements that felt wool need are heat and agitation. Some pretty hot soapy water, with some dish soap in it to get things slippery, is a great start. You'll be shaping, by hand, a leek with a fat cylindrical bottom and thinner, multiple strands at the top for the leaves. Rolling the wool between your hands can be very useful in shaping. Be careful with those leaves–you don't want them felting to one another and getting all clumpy!
If you are a fiber arts enthusiast and already own a felting needle, you may want to neaten up your child's leek form with your needle before moving on. (I did.)
2. It will take multiple shapings and rinses until you are happy with your leeks. While they are wet, you will make a little cup of leftover green Easter egg color (why not? You know it's in the drawer), and dunk the LEAF end of your leeks into it (creating green leaves). Remember, your fat leek bulb at the end stays white! What is nice here is that the green color will "wick" somewhat down the stalk of the leek, creating the lighter green, just like in a real leek.
3. You can dry your leeks by hanging them (green side down) or by laying them on a mesh screen.
4. When dry, thread some strands of natural-colored twine through the base of the leek, like little whiskery roots.
5. Since leeks come to market trimmed straight across the top, go ahead and give those leaves a trim. Then pin your leek to your jacket!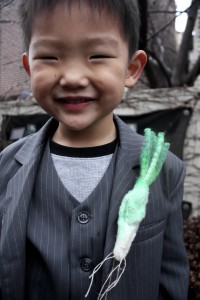 Suggested Links:
Daffodils are the national flower of Wales. The wonderful U.K. website NutureStore has a perfect daffodil pinwheel project for St. David's Day–and the whole site is spectacular and worth a look.
http://leitesculinaria.com/68535/writings-saint-davids-day.html
http://en.wikipedia.org/wiki/Eisteddfod