This recipe works as not just a dessert but also as a really tasty breakfast or snack since it's not a traditional pudding. Pumpkin is sky high with Vitamin A. Chia seeds have protein, are packed with Omega-3s and are an antioxidant. And there is no dairy used in the recipe but almond milk instead, making it both dairy-free and gluten-free. If you substitute out the honey, it is also vegan. And guess what? Even with all that healthy stuff packed in, it still tastes really damn good.
Ingredients
1 cup almond milk (unsweetened)
1 can pumpkin
1 t vanilla
1 t ginger
1 t cinnamon
2 T sunflower seed butter (or another nut butter—hazelnut butter also tastes great)
3 T of chia seeds (you can add more if desired)
2 T honey
1-2 T sugar
Instructions
1. Whisk all the wet ingredients together. You may need to add more almond milk so it is a little on the runny side. The chia once added will expand and make the mixture have a different texture than you see now.
2. Add the chia and spices and sweeteners last. You may need to adjust the sweetener to taste.
3. Although you can technically eat this after 15 minutes, it is so much tastier and has a better texture if left overnight. It is even better two days later when all the ingredients have melded together more.
I love eating this for breakfast, garnished with pears or apples and some sliced almonds and pistachios.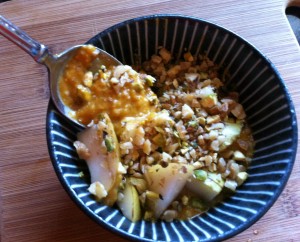 It is the perfect gluten-free, dairy-free and almost vegan (minus the honey) start to my day. And with the nuts and chia seeds, I am never starving mid-morning and wanting a snack. The best thing about it is that I also don't feel heavy in the morning after this breakfast, like I do with a muffin, as it leaves me both full but light.
Enjoy!