InCultureParent presents some of our favorite ideas from some very crafty Mamas for Ramadan crafting and decorating with our kids.
1. Moon Flashcards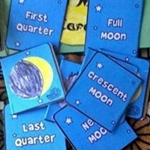 Ramadan is a great time to introduce little ones to some basic ideas about science and for older ones to become more familiar with how our solar system functions. These flashcards are perfect for teaching kids about the different phases of the moon. Have them match the moon each night of Ramadan to their flashcards, at least when it's clear enough outside to do so!
Scroll down after the link as the craft is found under the directions for making a tot-sized lapbook. The craftiness of this Muslim Mama is impressive. From http://ummabdulbasir.wordpress.com.
2. Colorful Letter Banner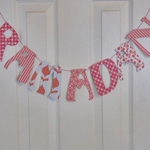 Like everything you find on this inspiring and artistic website, this letter banner with the word "Ramadan" is straightforward and beautiful. Better yet, make an even larger banner with "Ramadan Mubarak." You can pick your own colors and your own fonts—all that's needed is string, paper and a printer. No special crafting skills are needed! Definitely check out more of this website, Ramadan Joy, for a lot of inspiring ideas for Ramadan—crafts, decorating and cooking. From www.ramadanchallenge.com.
3. Advent-Style Calendar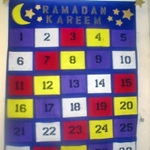 Advent-style calendars are a great way to help your kids keep track of the 30-or-so days of Ramadan. They also can be a fun way for kids to learn their Arabic numbers (if you decide to make the numbers in Arabic). Fill the pockets with a mix of special treats or inspiring messages from the Quran that reinforce the meaning of Ramadan, depending on the age of your child. This calendar by this crafty Muslim Mama will for sure give your children something to look forward to each day after iftar (the breaking of the fast). From http://ummlayla.blogspot.com.
4. Ramadan Banner with Decorations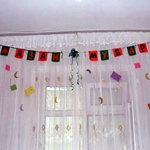 This original Ramadan banner with dangling stars, moons and shapes will jazz up any living room for Ramadan. One of the things we also loved about this banner is the language—if you look closely, you'll see it's written in Russian, which makes you smile at the reach of the global Muslim community. From http://chamomileandsmiles.blogspot.com.
5. Star and Moon Garland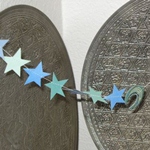 This simple and sweet star and moon garland uses card stock that was cut and strung together in one long stand. Make them in different colors and sizes to drape around the kids room, the living room or even for the backs of the kitchen chairs. From www.ramadanchallenge.com.
Check out some more awesome Ramadan crafts: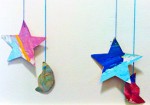 Dangling stars and moons out of recycled materials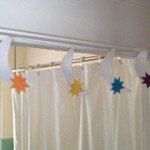 Star and Moon Banner
Creative Ramadan Calendar with Arabic Numbers
Looking for some Ramadan recipes? Check out these: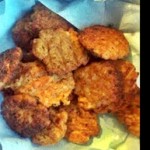 Pakistani chicken kebabs