There were so many adorable and fun crafts for the Chinese New Year, it was impossible to pick only one to showcase this month. So, InCultureParent has put together an overview of some of the best crafts we found for the Chinese New Year. They range from very easy (fingerprint cherry blossoms) to medium-difficulty (dragon mask) and many can be made with materials from around the house (e.g., toilet paper roll, egg carton). The one thing we promise is that they are all really fun. Happy crafting and Happy New Year!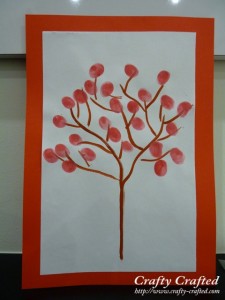 1.

Fingerprint Cherry Blossom Trees
Kids get to actually put their fingers in the paint for this one so of course, they will love it. Simplistic and beautiful.
Materials for making Chinese New Year Craft:
White paper
Pink and brown paint
Paintbrush
Instructions:
Please follow this link, also for great pictures of some kids in action:
http://www.crafty-crafted.com/fingerprint-art/fingerprint-cherry-blossoms/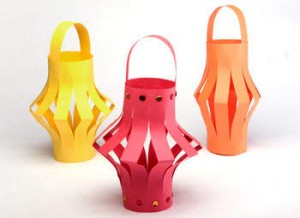 2.

Paper lanterns
An awesome house decoration. We don't even celebrate the Asian New Year in our household but I would still love to decorate with these!
Materials:
Construction paper
Scissors
Tape
Stapler
Ruler
Pencil
Glue, glitter, sequins, if desired to decorate your lantern
Instructions:
Please follow this link: http://crafts.kaboose.com/lantern1.html
And to take this craft to the next level, hang a bunch of lanterns on some colorful string for cool household decoration.
See here for a pic: http://www.activityvillage.co.uk/chinese_lantern_chain.htm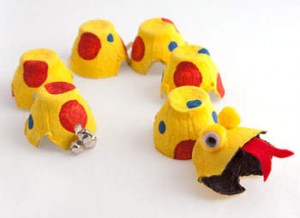 3.

Egg Carton Dragon
I love how many things an egg carton can be used for. The kids will love watching this everyday household object transform into a magical dragon.
Materials:
Paper egg carton
Scissors
Hole punch
Yellow and black craft paint
Paintbrush
Paint with daubers (or BINGO marking paints or craft paint and paintbrushes)
7mm wiggle eyes
1/4″ white pom-pom balls
Red felt scrap
Tacky glue
2 Jingle bells (1/2″)
Ribbon (we used 1/4″ wide)
Instructions:
Please follow this link: http://crafts.kaboose.com/dragon.html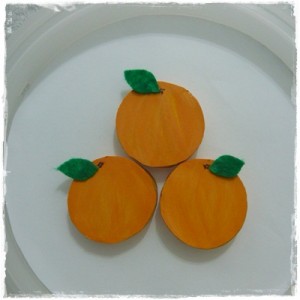 4.

Orange from toilet papers
Another brilliant use for everyday household objects. I love the creativity!
Materials:
Toilet paper roll
Orange paint
Paintbrush
Glue
Green paper or felt
Paper plate or construction paper to mount the oranges
Instructions:
Please follow this link see an adorable little boy in action making them: http://www.crafty-crafted.com/recycle-craft-materials/toilet-paper-roll-orange/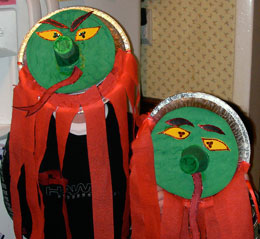 5.

Dragon mask
Kids will love not only making these but wearing them to play after is the greater joy.
Materials:
1 recycled aluminum pie tin or round aluminum "to go" container
1 empty cereal box
Streamers (recycled from your last big birthday bash)
1 small paper cup, like the Dixie kind you use in the bathroom or to rinse and spit at the dentist's
Rhinestones- red for evil, glowing eyes, other colors for kinder, gentler dragons
Green, black and red tempera paint and a paintbrush
Yellow felt or construction paper: For evil-looking eye sockets
Hot glue gun and glue sticks: kids and hot glue don't mix, so make sure you do all the
gluing
Regular glue
Scissors
Ruler
Ribbon
Hole punch
Tape
Black marker
Glitter
Instructions:
Please follow this link: http://www.parentsconnect.com/do/face_of_the_dragon.jhtml