Foods embody cultures. And food-themed books are a great way to sample and savor cultures. Here are seven wonderful picks from around the world that we've enjoyed in our family.
7 Multicultural Children's Books on Food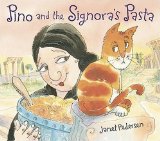 PINO AND THE SIGNORA'S PASTA
by Janet Pedersen
Ages: 4-8
Set in the bustling streets of Rome, the story starts off with a feline bunch waiting to lap up some pasta that Signora lovingly serves every day. However, Pino, the protagonist cat, is the only one tired of it. He sets out to discover newer flavors. He ends up tasting gourmet fish and pizza crusts. But everywhere he is angrily shooed away. That's when he begins to miss Signora's pasta, spiced to "purrfection and served with affection!"
The story is based on the author's first-hand experience in Rome witnessing kind women feed stray cats all over the city. The illustrations also depict architectural elements, people casually dining in cafes and alleys typical of Rome. My four-year-old bambino is amused not just by the story, but by knowing the origin of his favorite food! The Italian words we both learned, like mangia, grande, gatto, bellissimo and presto, appropriately woven throughout, help step up the flavor of this meaningfully served pasta story.
---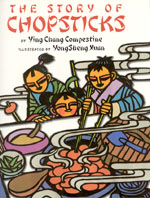 THE STORY OF CHOPSTICKS
by Ying Chang Compestine, Illustrated by YongSheng Xuan
Ages: 5+
Bold and beautiful cut-paper design in bright colors resembling stained glass instantly draws our attention. Popular Chinese-American author Ying Chang cooks up a tale to let children in on the birth of chopsticks.  How does little Kuai's plight at the dinner table lead him to an invention?
And how does it find its way into a grand wedding and eventually become a hit? What are the sticks called? Did the Kang boys get in trouble? Read The Story of Chopsticks to find out! I personally love the generous mention of several traditional Chinese foods and cultural practices. The author's note at the end includes how to use chopsticks, a rice pudding recipe, and a small list of Chinese table manners—how much more complete can a meal…er…book get?
---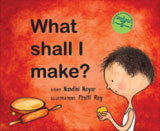 WHAT SHALL I MAKE?
by Nandini Iyer, Illustrated by Proiti Roy
Ages: 3-6
Don't kids love to play with food and in the kitchen all the time? Neeraj gets the license to do just that with a big round ball of dough while his mom is preparing fresh chapatis (an Indian bread) on the side.   A snake with two tiny eyes, a mouse with a pulled out nose and a cat with a tail is born out of his imagination. The cat even grows into an anatomically perfect roaring lion forcing Neeraj to quickly roll it all up into a ball of dough again! With simple vocabulary and neat illustrations, this food story from India is nothing but a pretend-playing preschooler's pure delight.
---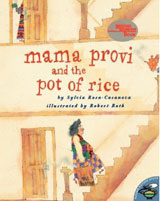 MAMA PROVI AND THE POT OF RICE
by Sylvia Rosa-Casanova, Illustrated by Robert Roth
Ages: 5+
Puerto Rican Mama Provi is famous for her stories and big feasts. And when her granddaughter Lucy is sick, she takes a pot of her signature arroz con pollo (rice and chicken) and starts her climb upward—from the ground floor where she lives to Lucy's apartment on the eighth floor of a tall building. Stopping to catch her breath on each floor, she succumbs to the aroma from the apartments.
She trades her own dish for a portion of her neighbors' cuisine and ends up with a large flavorful spread for Lucy. Now, who are her neighbors, and what are the en un dos por tres dishes (as Mama Provi often declares in Spanish!)? Freshly baked bread from 2B, Senor Rivera's frijoles negros, Mrs. Bazzini's salad, collard greens, Mrs. Woo's tea, and a slice of apple pie from apartment 7C! Soft watercolors and Spanish words sprinkled all over to enhance the warmth. In the end, we are left satiated, from celebrating diversity through kind neighbors and great food.
---
FOODS OF ETHIOPIA
by Barbara Sheen
Ages: 10+
This non-fiction book begins with a food map listing the staple ingredients of the country. It proceeds to explain dishes and even includes recipes for a few. Vibrant photography supports the narration and helps in visualizing and understanding the foods. Overall, the content is enlightening. Barbara Sheen has authored other gastronomical books in a similar format like Foods of Australia and Foods of Russia. They all come with a stamp on the front cover that says "A taste of culture," and that's exactly what they are!
---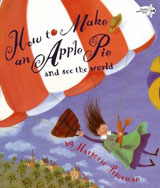 HOW TO MAKE AN APPLE PIE AND SEE THE WORLD
by Marjorie Priceman
Ages: 5+
A great roundup of cultures and countries, this book is a huge favorite in our family. The task of gathering ingredients to bake an apple pie (when the market is closed, of course!) takes us by different means of transport to Italy (for semolina), France (for eggs), Sri Lanka (for cinnamon bark), England and Jamaica for a few more things.
We finally get dropped off in Vermont to pick up some apples. The text ropes in cultural details; the illustrations justify the places with landmark and landscape details. The recipe is also tightly integrated. The last page shows happy children from these very countries enjoying the apple pie. Funnily informative, this book wins us over every time we travel around the world to make an apple pie.
---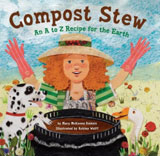 While we are talking food and with Earth Day around the corner, we recently enjoyed COMPOST STEW – An A-Z recipe for the Earth by Mary McKenna Siddals and illustrated by Ashley Wolff.
Simple and straightforward, the book enlists compostable wastes alphabetically and entertainingly for our little "environmental chefs"! Happy Earth Day everyone!
Must Read: