We live in times that are increasingly out of synch with natural rhythms. More often than not we impose our own schedules onto a world that has been governed by natural laws since it began and then wonder at the devastating consequences. Children, especially young children, who are hardwired to follow their instincts illustrate this clash very well. Toddlerhood can be a challenging time. A baby is becoming a mobile, vocal child and discovering their own identity separate from their mother. It is not uncommon to hear modern mothers talking about the terrible twos. Yet African toddlers do not experience this phenomenon to quite the same degree. Why is there such a marked difference among children I have observed? It's quite simple: breastfeeding.
In many African cultures it is normal to breastfeed until well into toddlerhood. It is also normal for older children under the age of six or seven to breastfeed again with their younger sibling, if the mother stopped breastfeeding because of another pregnancy. Having grown up in both Africa and Europe, I found it fascinating that what was considered to be standard practice in Africa was called "extended breastfeeding" in Europe.
Breastfeeding children who are walking and talking is much more subject to other people's judgment than breastfeeding babies. Many societies have picked, often quite arbitrarily, ages when it is no longer considered acceptable for babies and young children to be doing certain things. From my own personal experience, it is precisely when toddlers are discovering themselves and the world around them that they feel most vulnerable. Breastfeeding provides the close comfort and reassurance they need.
As we cart children around in the whirlwind that is our day-to-day existence, breastfeeding provides a time and a space that allows us to reconnect with our children in a meaningful way. Breastfeeding also solves two of the most frequent reasons that parents cite for tantrums "s/he is hungry" or "s/he is tired." If children are hungry, food is being provided. If they are tired then they are getting a break from whatever might be deeply troubling them at the time. It also gives the mother a chance to stop and dispel tension with her distressed toddler.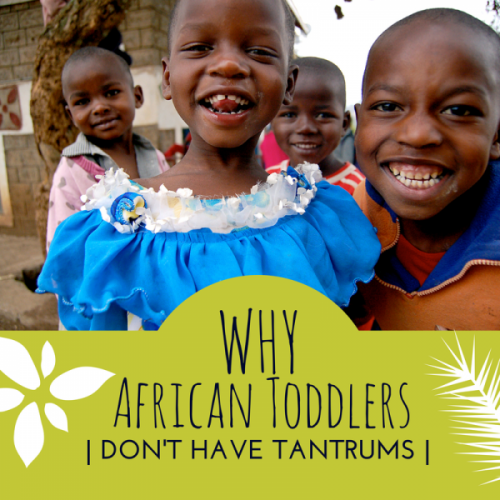 I remember asking my grandmother, who had given me so much sound advice on breastfeeding, for how long I should breastfeed my daughter. She told me that my daughter would stop when she was ready. I'm glad I listened as it made a world of difference in her early toddler days. In stressful situations, my daughter could stop to breastfeed when she had hurt herself or just needed to know that I was close by and there for support.
What I had not expected was the profound effect that breastfeeding also had on me. In moments where our wills were clashing, it gave us a gentle focal point that broke the tension. It was an alternative "time out" to the current disciplinary "time out" practice. In the middle of what could have turned into an ugly scene, I found myself looking at my daughter's face as she suckled and didn't see a screaming toddler but a still really young child struggling with life as we all do. Her feed would give me a chance to breathe and by the time she had finished, we would both have forgotten what the fuss was all about.