"I want to plant a tree because tomorrow is Earth Day," my 11-year-old daughter told me while looking at the giant calendar in the kitchen. I answered that planting a tree was a nice idea, but I was thinking that for us parents, the best celebration for Earth Day, and one we could teach kids as well, is to help prevent the over-consumption or thoughtless use of the Earth's resources.
Human beings have destroyed and converted into garbage so much of Earth's resources and caused many environmental disasters such as:
– The Niger Delta
– Bhopal in India
– The Gulf Oil spill
– Lago Agrio in Ecuador
to mention just a few, plus all the wars that have happened because of our interest in controlling the Earth's resources, particularly oil. We have also created so much garbage, like the island of plastic floating in the Pacific, that now we don't even know where to put it.
What could we do to help the Earth?
My kids and I were brainstorming ideas and we came up with a couple of them:
1. If you live in a developed country, DON'T BUY WATER BOTTLES. I grew up in Ecuador where water is contaminated. It is a luxury and pleasure to me now that I'm living in San Francisco to just drink the water from the sink. My husband, who is an environmental engineer specializing in water treatment says that the San Francisco has the best water.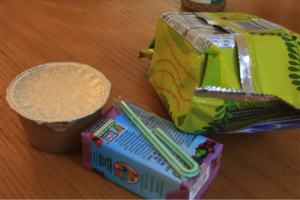 2. Don't buy things in little containers: small containers of apple sauce, juice containers, aside from the fact that juices are full of sugar, snacks, packaged foods. Buy big containers or in bulk and use reusable containers.
3. Try to not to buy products from remote locations. Consume seasonal products—they are fresher and have not been transported from far away locations using a ton of oil. As an example, I consume Californian grapes when in California and the rest of the year I eat a different fruit.
4. Recycle and compost as much as you can.
5. Make efficient use of water resources. Such as not flushing the toilet at night (my daughter's idea) and not leaving the water running when brushing your teeth (my seven-year-old son's idea).
6. Unless you really need to drive a 4-wheel drive car (because you live in the mountains) try to get a car with low gas consumption
The above ideas were just a couple of thoughts we came up with. Since we live in an apartment we don't have a place to put a tree, but we planted some tomatoes in a pot. We hope they will come out nicely in the summer.