Being part of a family where we each have a unique skin tone and hair type has made me really think about the images my children are bombarded with every day, through adverts, toys, games, clothing, etc. Although it is clear there is a widespread and concerted effort to represent all different looks these days when you actually start to pay attention, you soon realize we have a long way to go. Nearly every t-shirt, backpack, lunchbox, or greeting card that features a child, features a white child. Where non-whites are represented, they are often the token nod to non-prejudice, a friend or relative of the main character, shown only in a supporting role.
I think it is extremely important that non-white children see images of children who look similar to themselves, so they are not left wondering why non-white children are sidelined or ignored. "Are non-white children not as important?" is a question they may well ask themselves. I find all of this especially important when it comes to images held up as an ideal of beauty, as in the case of Barbie or Sindy dolls.
It is now fairly easy to find so-called ethnic baby-type dolls in all complexions and we've had a brown-skinned baby doll, as well as a gorgeous brown-hued rag-doll since Schmoo was small. However, one type of doll is harder to track down – the fairy or mermaid doll. For some reason, when it comes to fantasy, people lack imagination! Nearly every fairy or mermaid doll (or picture of a fairy or mermaid) is white. Luckily, Disney has come to the rescue, and Iridessa, one of the fairies from the new cartoon, Tinkerbell & the Great Fairy Rescue, is black, which means lots of great tie-in fairy merchandise!
Schmoo actually received a blonde-haired, blue-eyed Barbie doll for her fourth birthday, but luckily she took no interest and I quickly snuck it out of the house! Today, to my horror, she received a replacement, as a take-home gift from a party. This time it was love at first sight and she has spent the evening playing with it before taking it to bed with her. I mentioned that I had been about to buy her such a doll (true, but Princess Tiana rather than the Aryan doll she was lovingly clutching!) and tentatively suggested that perhaps we could make an exchange when her new doll arrived?! This suggestion did not of course go down too well–she said she would prefer the doll I bought her (bless her) but that she wanted to keep both dolls.
When she went to bed, I rushed online to see what the possibilities were and found to my delight that there is now a whole range of brown-skinned Barbies available. I went a bit bonkers and bought nine dolls!
Brown Barbie Doll Collection
Buy Now on Amazon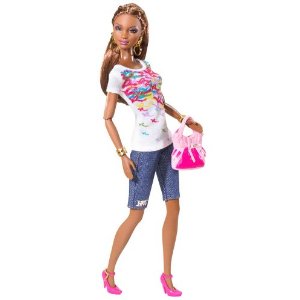 I partly bought so many because I wanted to have the whole range of different skin tones and hair types (I even found one on eBay with an afro—a very rare thing in Barbie world), though each has beautiful brown skin and gorgeous dark eyes.
Trichelle & Chandra Barbie dolls (Trichelle with afro)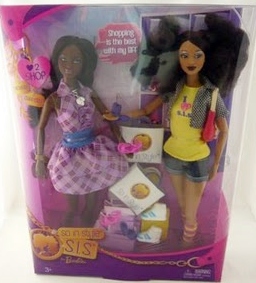 Most have "African" features too, rather than the "white doll painted brown" look of the first black Barbies. I think Schmoo's nine new brown-skinned dolls (which include a ridiculously cute little sister doll: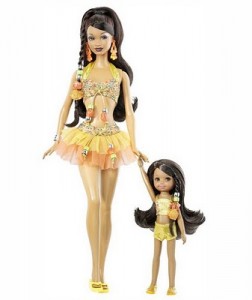 and a boy doll to represent her brother:)
[amazon_textlink asin='B0037XA2LE' text='Grace Barbie doll & Darren' template='ProductLink' store='US' marketplace='US' link_id='b66b3b5e-99ae-11e8-9717-7f58a12dc81b'] (Ken-type doll)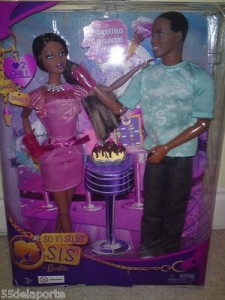 Princess-style Barbie doll (for a bit of glamour)
<iframe style="width:120px;height:240px;" marginwidth="0″ marginheight="0″ scrolling="no" frameborder="0″ src="//ws-na.amazon-adsystem.com/widgets/q?ServiceVersion=20070822&OneJS=1&Operation=GetAdHtml&MarketPlace=US&source=ss&ref=as_ss_li_til&ad_type=product_link&tracking_id=incul-20&language=en_US&marketplace=amazon&region=US&placement=B004UUKNC6&asins=B004UUKNC6&linkId=b68faa66faa243a43bc9a56606e75734&show_border=true&link_opens_in_new_window=true"></iframe>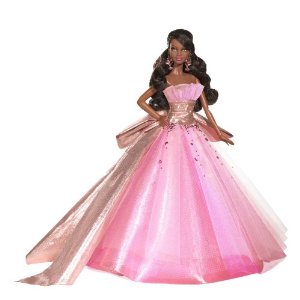 I hope these will be enough to balance out her white Barbie, so I will be happy for her to keep it after all.
So, these are some of the Best Brown Barbies Dolls I found for my kids. If you have more suggestions, do comment below.