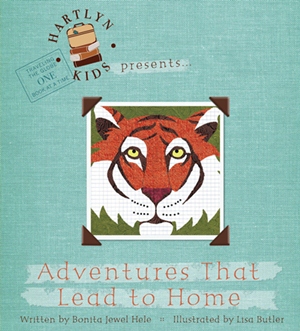 Win the book Adventures that Lead to Home by Bonita Jewel Hele (author) and Lisa Butler (illustrator), courtesy of Hartlyn Kids. The giveaway also includes a free "passport."
About the passport: Each of their books includes a free passport stamp. After reading the book, you have effectively visited that country. Hartlyn Kids offers a passport to document the collection of passport stamps and the number of countries visited by reading a book from the series. This is a fun and easy way for children to get excited about world travel!
About the book: Meet Rohit, a rural Indian boy who experiences adventure and excitement during his first visit to an Indian city. Along the way he learns that the differences between his rural life and city life are numerous and that despite the excitement of the city—there is no place like home!
About Hartlyn Kids: Hartlyn Kids provides an interactive reading experience which incorporates travel and reading. Their books and products offer the opportunity to Travel the Globe… One Book at a Time.
What to do to win: (please note this giveaway is only available to residents of the U.S.–we still love all of you not in the U.S. and have good stuff planned for you too so not to worry!)
1. Go like Hartlyn Kids on facebook and post on their wall one thing you know about India: http://www.facebook.com/hartlynkids.
2. Leave us a comment, copying and pasting that one thing you like about India here in the comments section below. Please don't forget to do that or your entry will not be tallied!
Do you want more chances to win this cool book? Then you can do any or all of these things:

**Please leave a separate comment as we will pick the winner by random number generator based on the number of comments.
1. Subscribe to our mailing list: http://incultureparent.com/sign-up (and we promise, we don't send too many emails) and leave us an extra comment letting us know you did so or that you're already a subscriber. Make sure to leave the comment using the same email you subscribed with.
2. Follow us on Twitter and tweet about this giveaway including a link to the post and @incultureparent. Copy the link to the tweet in an additional comment on the giveaway's post.
3. Repost any one of our articles on your Facebook page (your pick) and leave us a comment telling us which article you reposted.
The contest will close October 25th, 2011 at 10 p.m. PST and the winner will be announced October 26th.Good luck!