Last night, I finally had the pleasure of meeting one of ICP's contributors, Frances Kai-Hwa Wang. Frances is a talented writer, journalist and activist and writes the witty and insightful Adventures in Multicultural Living column about her experience raising four multicultural kids.
Here's a pic from our meeting.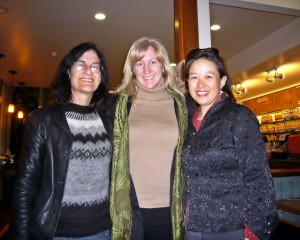 On the other side of me is Saill White, the amazingly talented website designer and programmer who made InCultureParent come to life and whom ICP would be lost without. Unknown to me when I first found Saill, she and Frances are old friends.