This contest is now closed.
It's our first giveaway of the New Year and I am excited about our newest giveaway. I originally discovered this product via a friend, who knows perfectly the types of things I like. She gave it as a present to my girls. Because I liked it so much, I wanted one of our readers to have it too!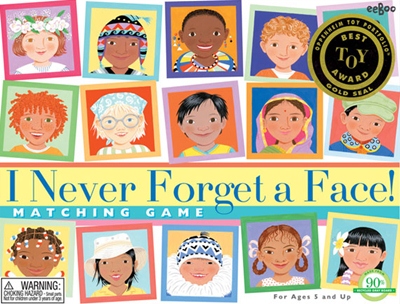 I Never Forget a Face by eeboo is a very cool memory and matching game featuring the smiling faces of 24 children from countries all over the world.
The game says it is for age 5+ but my kids played it at ages 3 and 4, although it was more just matching at that age and not so much memory.
A little about eeboo:
eeBoo is a boutique toy manufacturer that specializes in useful, beautiful and well-made educational games and gifts. eeBoo creates refreshing toys and gifts that are 100% original (no licenses) and they commission artwork from well-known and well-loved children's book illustrators. Everything they make is meant for wholesome individual or family play. Many of their games and activities are based on old-fashioned formats, which eeBoo re-invents with cheerful artwork and contemporary design. Literacy, story telling, drawing, imaginative play and basic math are among the skills that eeBoo products encourage. A good share of the eeBoo line has been awarded Oppenheim Best Toy Awards and other honors.
What you need to do to win:
Sign up for our email list: http://www.incultureparent.com/sign-up . We don't spam you or sell or giveaway your email, we just would like to have you as part of our growing community! Once you have signed up, please leave us a comment below letting us know what first name you signed up with (we do check!). That's it!
Want more chances to win? Then get social.
**Please leave a separate comment as we will pick the winner by random number generator based on the number of comments.
1. Follow us on Twitter and tweet about this giveaway including a link to the post and @incultureparent. Copy the link to the tweet in an additional comment on the giveaway's post.
2. Repost any one of our InCultureParent articles on your Facebook page (your pick) and leave us a comment telling us which article you reposted. (Please note, it must be one of our site's articles you repost, not just any article we have linked to on our Facebook page.)
This contest will close Friday January 20 at 10 p.m. PST and is open to everyone around the world. Eeboo will ship globally. Good luck!