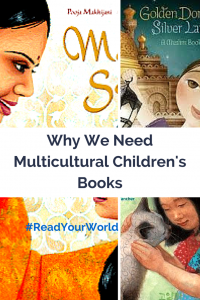 Have you ever tried to find a book with a Latina princess or a black fairy? If I were a child I would surely think fairies are all white. When my little girl was going through a fairy phase, I couldn't find a single book that had a fairy that was non-white. What was more, when it was her sixth birthday party and she wanted a fairy theme, I searched the internet for images of black, Asian and Latina fairies to reflect all the children that would be coming to her party. I was frustrated that there were hardly any.
What about a book on friendship that features friends of different races, cultures and religions? One my daughter, an Arab-American Muslim, could see her and her best friend, a Filipina-American Catholic, in? This is one reason we need multicultural children's books: to allow our children to see themselves and their reality reflected in the books they read. We need books that tell children of all races, not just white children, that they matter. But it goes far beyond that.
Our children need to read multicultural books and books about diversity to also expand their world view. Multicultural books allow children to travel to places they have never been and meet people who may look different from them. They spark children's imaginations and provide a basis for questions and conversations.
Multicultural children's books may also be a tool to break down implicit biases and racism. "Diverse kids' literature gives children of color a chance to see themselves as heroes, which is vital. But smart, thoughtful books with non-white protagonists can also give white children a chance to see black people and people of color as something other than anxiety-producing others or stereotypes," says an article published by Noah Berlatsky in Pacific Standard. Multicultural books are an important tool in anti-racism education—they can present children with counter-narratives to many of the biases they see and hear in mainstream media and larger society.
Yet despite all the positive things I have mentioned, only 10% of children's books have diversity content and that's in a country where 37% of its inhabitants are people of color! We can fix this by asking our local bookstores and publishers for more multicultural titles. We can't forget the power we have to vote with our wallets–it's our dollars that influence what gets published. So let's keep buying multicultural titles to show bookstores and publishers that these are the books we want to see on the shelves.
Multicultural Children's Book Day, January 27, is a day to raise awareness for the children's books that celebrate diversity, but to also encourage more of these books into classrooms, libraries and home bookshelves.
Here are a few things you can do to support multicultural children's books:
• Visit The Multicultural Children's Book Day website on January 27th to view and participate in a huge blogger link-up, multicultural book reviews, giveaways and more!
• Have children bring in their favorite multicultural book to school and share it with the class. Better yet, create a Multicultural Children's Book Day display around the classroom or library.
• Visit InCultureParent's Multicultural Books for Kids Pinterest Board for more reading ideas.
• Share the #ReadYourWorld hashtag.
• Visit Multicultural Children's Book Day sponsors Wisdom Tales Press, Satya House Publications, DARIA (World Music with DARIA), Rainbow Books and others to discover new books to read.
• Get some more suggestions for what multicultural books to read from the many multicultural books we have reviewed.